Located in Phoenix, AZ, Giuseppe's on 28th is a purveyor of no-frills Italian dining from the award-winning Chef Richard Bock.
Giuseppe's is a family owned restaurant focused on pleasing every guest with a genuine Italian dining experience. Four-time winner of the Best of Phoenix Awards from Phoenix New Times, we are proud to serve fresh, unique, delicious Italian food, complemented by a great glass of wine. We offer a comfortable setting for adults and children and no reservations are required. We also have an outside patio with heaters for our chillier nights. Our goal is to send you away completely full and satisfied, with money left in your wallet!
WE OFFER GIFT CERTIFICATES
If you would like to Give the Gift of Giuseppe's for that special birthday or anniversary,
please click on the link below. It will take you to our on-line Gift Certificate program.

Click here for information about Giuseppe's Gift Certificates!
Directions
Phone
(602)381-1237
LOCATION
2824 E Indian School
Phoenix, AZ 85016
Hours
Monday, Wednesday, Thursday
Lunch: 10:30am to 2:00pm
Dinner: 4:30pm to 9:00pm
Tuesday
Closed
Friday
Lunch: 10:30am to 2:00pm
Dinner: 5:00pm to 10:00pm
Saturday
Dinner: 5:00pm to 10:00pm
Sunday
Dinner: 4:30pm to 9:00pm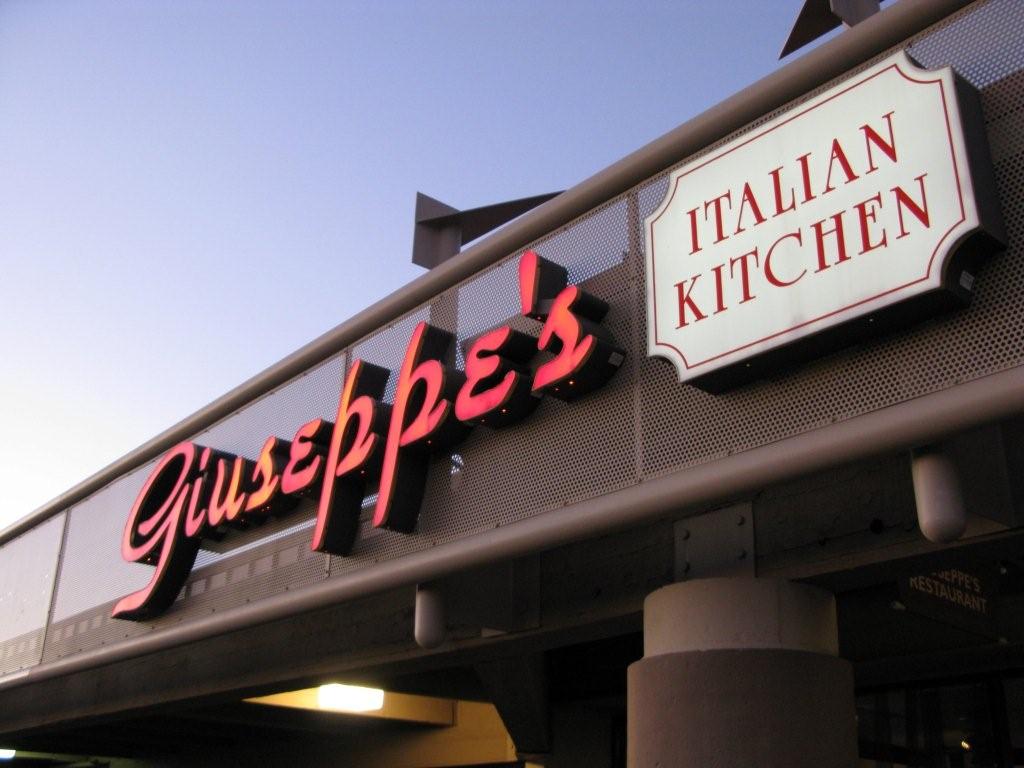 Enjoy these Summer Lunch Specials Monday, Wednesday, Thursday and Friday from 10:30am until 2pm.
These specials make for a perfect business lunch, tourist visit, or just a great lunch for friends. Food evokes a feeling of comfort within us. When we are comfortable we can lose focus on our goal and relax. Enjoy lunch-sized portions of pasta and a salad for only $10 during the winter!
Phoenix New Times
Every year, Phoenix New Times names 100 Tastemakers — members of our local culinary community who help shape the way we eat, drink, and think about food in Phoenix. Some you'll know, and for others, it'll be a first introduction, but each person on our list deserves a nod for helping make our city so delicious. In 2016, Best of Phoenix recipient, professional cellist turned Italian restaurant owner, Richard Bock talks about Giuseppe's on 28th, the go-to pho and the best kept culinary secret of Phoenix, AZ.
Diners, Drive-Ins and Dives
Diners, Drive-Ins and Dives (DDD, The Triple D) is an American food television series that premiered in November 2006 on the Food Network. The program stars and is hosted by Guy Fieri and originally began as a one-off special. The show features a "road trip" concept, similar to Road Tasted, Giada's Weekend Getaways and $40 a Day. Fieri travels around the United States looking for the best diners, drive-in restaurants, and dive bars.

We were very excited when Guy Fieri first came to Giuseppe's and had dinner. He ordered quite a few different items and after eating, decided to film a show about our restaurant.
Check, pLEASE! aRIZONA
Giuseppe's has also been featured on the Channel Eight's PBS Show, Check, Please! Arizona and many of our wonderful customers were seen in the segment. This show is Channel Eight's popular restaurant review series in which Arizona residents share dining-out experiences in a lively roundtable discussion. Each week, Check, Please! Arizona features a trio of guests who dine and then review three local restaurants they recommended to each other. James Beard award-winning chef Robert McGrath hosts the half-hour program.
For Uber Eats, just click on the link below. You will be directed to our menu so you can easily place your Take Out Order. Your credit card won't be charged until you pick up your order.
If you prefer to order online, we have two options available; Postmates or Bite Squad.

For Postmates, just click on the link below. You will be directed to our menu so you can easily place your Take Out Order. Your credit card won't be charged until you pick up your order.
If you prefer to speak with us to place your order,
just call the number below at least 15 minutes ahead of your desired pick-up time.
602.381.1237
If we are extremely busy in our kitchen when you call,
we will let you know what time to arrive. However, usually by the time you leave
your house and arrive at Giuseppe's, your order will be ready!
Chef Richard Bock
Richard Bock is the owner and operator of Giuseppe's on 28th since he purchased it on June 1, 2002. He studied cooking in Italy for 9 years while performing as Principal Cellist in Maggio Musicale Fiorentino Orchestra.
This is how it all began...
Richard's story is quite interesting. Richard is a very talented cellist and grew up in New York. Many years ago, he was playing in a club on East 84th St in the city with Dave Brubeck's son, Darius. During the evening, a customer in the club, who lived in Florence, filled Richard's thoughts with images of Italy, the culture, the music, the people and the food. He extended Richard an invitation to come to Italy, and 2 weeks later, Richard was on his way!
Soon after his arrival, he was walking the streets of Florence when he bumped into an old college friend, a pianist, who was involved in the Maggio Musicale Fiorentino Orchestra, the most famous theater in Italy. Soon after this chance meeting, this friend got Richard an audition for conductor, Riccardo Muti. Muti happened to be looking for a Principal Cellist for the orchestra, so Richard decided to perform and was offered the position. He thought he would stay a year, but stayed almost 9! It is here where his love for the culture blossomed.
As a result of all those years, living and fitting in perfectly with the people and lifestyle, he enjoyed all the fun times at the table with friends, sipping fabulous wine and studing how they lived. He learned how to cook from all his friends, their mothers and grandmothers and just couldn't get enough. He eventually went back to New York and immediately started working in the studios in the New York scene, but he missed Italy and the finer things in life. He knew sooner or later he would have a place that would give him some of those feelings that he missed....the trattoria style and food.
It wasn't until about 15 years ago when he got involved with an Italian restaurant in the Valley, did he learn what he wanted in restaurant ownership. In 2001 when Giuseppe's location became available, he knew he had to purchase it. It offered him the ability to use all he had learned while in Italy and share his experiences with others.
Owning Giuseppe's also allowed Richard the ability to continue with his music career, as he was able to perfect both. Richard joined the Phoenix Symphony in 1984 and has been the principal cellist for 24 seasons. He began his cello studies at the age of 12 with Harvey Shapiro at The Juilliard School. Leopold Stokowski chose Bock, at age 18, to be principal cellist of the American Symphony Orchestra, making him the youngest principal player in the orchestra's history.
Richard is also known for being a part of Frank Sinatra's orchestra for 5 years, touring throughout the United States and South America. He performed in concerts with Tony Bennet in Boston and also performed in Carnegie Hall and the LA Forum. He will also tell you that he played with Tim Harden at the Woodstock Festival, for real!!
Many interesting people have come to dine at the restaurant. Doc Severinson and Marvin Hamlish stopped in when they were visiting because Richard played with them both when he was in NYC - they wanted to see if his cooking was as good as his musical talents.
So, the next time you are in the mood for some exceptional Italian food, stop into Giuseppe's on 28th. You may even be lucky enough to hear Richard playing his cello. He is a very talented chef by day and exceptional cellist by night!